Day two the dyework began in earnest. Simon interpreted my instructions for Virginia, the dyer,
so she can proceed after I leave with a full understanding.
We started by soaking the madder roots, which were already ground to make for
a quicker extraction of the dye.
Then we extracted the dye from the cochineal bugs.
Between the translating, which is naturally slow due to the new information
being absorbed, and working with the tools that we had at hand these two processes took until after lunch to get to the point we could start the actual dyeing.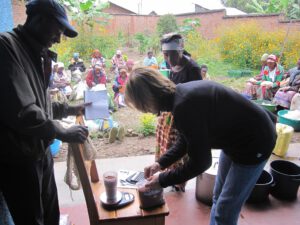 The rest of the ladies, some 28 of the 35 in the group, took their places
to do their daily fiber work with us as a background to watch.
Many times the ladies have things outside they need to do first such as selling vegetables from their gardens, and also doctors appointments so it's rare all 35 will be present at one time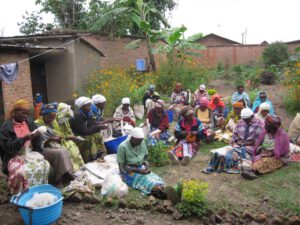 In the afternoon, there was much curiosity as the dyeing started.
We got the madder, cochineal and onion skins finished and
then started the weld dyepot.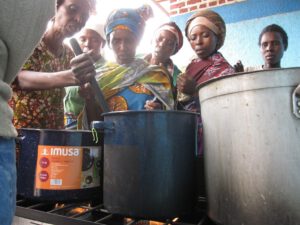 We were entertained by baby Sandrine who loved to say
"bite' (beetay) which means "what's up".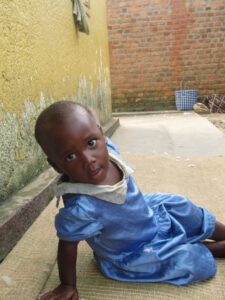 Virginia was very clever and efficient.
I felt she could save the madder root to reuse again so she went and
tore banana leaves from the trees and laid the roots out on them to dry.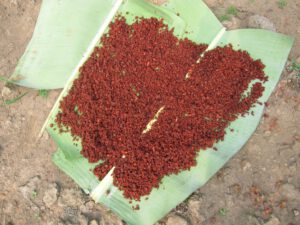 Virginia hung out the skeins to dry. I suggested they
let the skeins cure for a day or so before washing as less dye will wash out.
She hung these skeins and turned to me with a big smile and a thumbs up.
No language barrier here.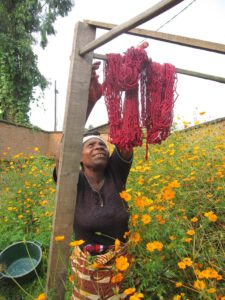 My pictures aren't as rich and bright as they were in real life but left to right
cochineal, onion skins, madder, weld.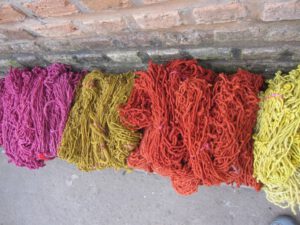 Katie and I got back to her dear home about 5:30. It is dark here
by 6ish each day and the sun comes up about the same, year round.
It is customary for families to have house help. There are three familes that live in this
compound, Katie, the landlord, and another family. Each of these families have cooks/house help.
Katie does not. We cook, do dishes, wash our clothes and sweep and mop. Nothing new!
This is the cooking house and Charlotta is preparing dinner
on the tradition imbabura which uses charcoal from eucalyptus trees or other
types of trees for the heat source. They wash all the dishes outside in tubs and of course the clothes
as well. They work hard and are lovely to be amidst.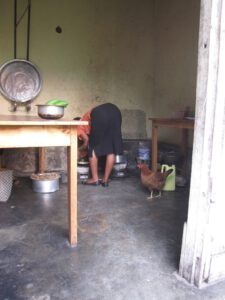 It was a very good day.